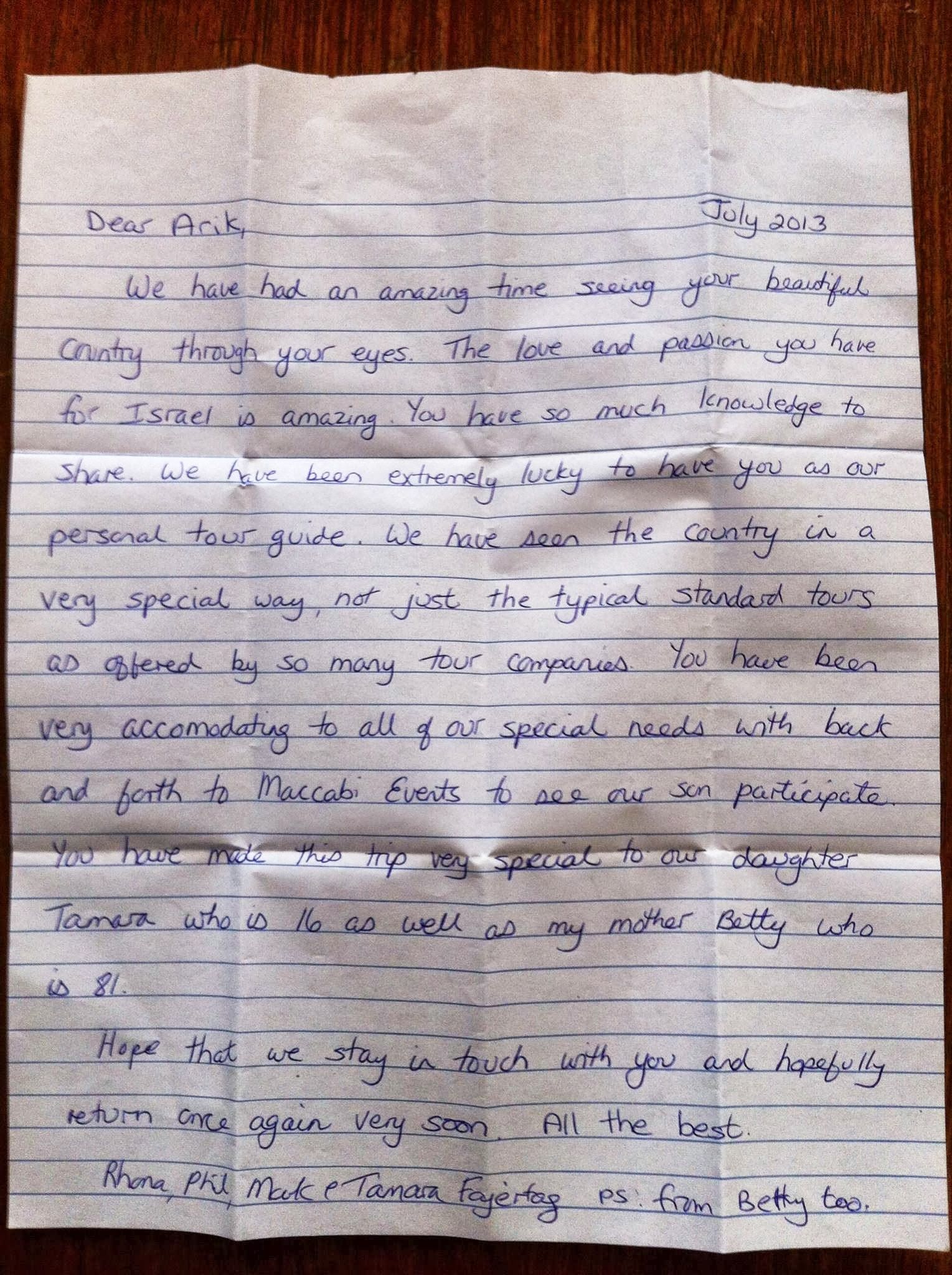 Press to view in full scre
en
---
"Thank-you Arik and all the best to you and your family for a wonderful holiday and 2016!
Thank-you for the photos!!
best jk

James Kottak
twitter @JKottak
fb James Kottak
www.jameskottak.com
Rock & Roll Forever!"
" The Scorpions "
---
"Dear Arik,

Just wanted to wish you and your family a Healthy and Happy New Year. Shana Tova.

We miss you a lot. Keep in touch.

All the best.

Rhona, Phil, Mark, Tamara and Betty (too)"
---
"Hi Arik,

Hope all is well with you and your family. Want to send you early "Happy Passover" greetings.

It is has been a long time since we communicated. You are always in my thoughts and I always remember my amazing trip to Israel.

I have a favor to ask. My nephew is going to Israel this summer on the Birthright trip. He is planning on staying an extra week in Tel Aviv. June 8-15. He is looking to stay in a hotel or apartment with another 2 friends. I was wondering if you could recommend any hotels or apartment/condos etc for this extra week in June. The budget is approximately $1000 US dollars for himself, another boy and a girl. Therefore they need to have at least 2 separate beds. Perhaps a one bedroom suite or something.

I would be extremely grateful if you have any suggestions, etc.

Do you know how much the Artplus would cost?

I will wait to hear from you and we are all sending you our best wishes for a Happy Passover.

Take care. Best regards.

Rhona & Phil & family"
---
"Thanks for your kind photos you sent to us !

We really appreciate your kindness in accompanying us around your beautiful country !

Thanks again !
Paul"
---
Deer Arik I want to thank you again for the great and personal service that you giving me my friends and my customers when we coming to Israel !!! you doing a spectacular job way beyond the price you're charging us And of course we greatly appreciating the hospitality that you are inviting us to your house for dinner and enjoying the magnificent and delicious food that you wife cooking for us Please convey this message to your sweet wife and thank her again for all she's doing for us I hope to see you very soon in israel Doron rozen President Doron diamond Merchant International Sent from Doron I phone